Pointing Fingers
Campaigns
You deserve safe, healthy food. Help us label GMOs and get antibiotics out of food animals.
By Consumers Union on Monday, October 15th, 2007

My grandmother was fond of reminding me that when I pointed a finger, there were three pointing back at me. She would sometimes add that it's OK to identify faults in others, if you are willing to look at your own weaknesses.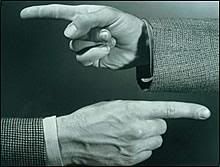 I bet my Grandmother would have had something to say about US food industry and regulator efforts to address the safety of food imports – from China in particular. The Grocery Manufacture/Food Products Assn (GMA) proposal outlined in the October 12, 2007 Los Angeles Times Articles suggests that while the food industry is acknowledging risks with imports, they are narrowly focused on holding imports to a higher standard and myopic about beefing up safety systems at home.
Consistent with my Grandmother's skepticism, US Rep. Rosa DeLauro was quoted in the same article saying "I think there is real momentum for reform – addressing only a rising flood of imports but also the serious need to examine our entire food safety system here at home."
To emphasize this point, an article that ran the same day in the Washington Post described Canada's efforts to protect its residents from contaminated imports – from the US. Canada stepped up its leafy greens testing program and the Canadian Food Inspection Agency is mandating that US food importers be part of California's voluntary produce safety program.
Hmm, Canada may be on to something – mandating participation in a voluntary safety program…
Related